LE JARDIN OFFERS a five star spa service in an accessible way
Drawing on the power of nature and inspired by the beauty of the garden and French spa traditions, whilst staying on trend with the evolving health and wellbeing discoveries.
Encompassing a fully functioning Spa and thermal experience and a customer centric interactive reception and retail zone, where customers are encouraged to submerge themselves into the sight, scent, and sensations of the spa.
Le Jardin Spas is the joint creation of Director and Spa Manager Orla Gallagher alongside one of her closest friends, Ciara Loughran who holds a Masters degree in Health Promotion. Orla is an Independent Spa Consultant and Northern Ireland native, who has spent almost two decades working as an expert in the Spa and Holistic health field.
Exceptional in every single imaginable way; a surprising oasis with amazing staff! Thank you Emma, Sam and Olivia for your attention to detail and professionalism.
A haven of bliss and tranquility! Fabulous facilities-superb service and terrific treatments! What a wonderful day spa! The best I've ever experienced!
Words cannot fully describe the luxury we experienced today at Le Jardin. From the moment we entered to the moment we left, we were treated so well by the staff and felt so pampered.
Fabulous interiors and excellent choice of treatments. Cleanliness and customer service is clearly of upmost importance. From the welcome of the Front of House Team, to the knowledge of the Therapist who looked after me I was very impressed!​
LATEST ARTICLES FROM LE JARDIN BLOG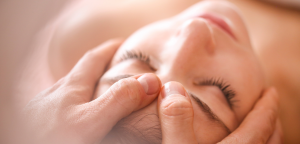 It's all in your head. Self-care and retaining a sense of balance in life is at the forefront of most people's minds at the moment.
Read More »